Questions About COVID-19?
We are here for you to answer any questions you may have as we stay up-to-date with the CDC in regards to COVID-19
Please let us know if in the past 14 days you or anyone in your family has come into contact with someone with laboratory confirmed COVID-19 or traveled to a country or area that the CDC has issued a travel advisory for COVID-19.
Hand washing is one of the best ways to protect yourself and your family from getting sick. Learn when and how you should wash your hands to stay healthy.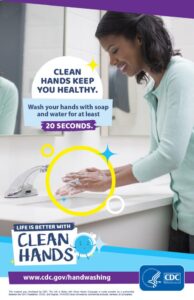 Wash Your Hands Often to Stay Healthy
You can help yourself and your loved ones stay healthy by washing your hands often, especially during these key times when you are likely to get and spread germs:
Before, during, and after preparing food
Before eating food
Before and after caring for someone at home who is sick with vomiting or diarrhea
Before and after treating a cut or wound
After using the toilet
After blowing your nose, coughing, or sneezing
After touching an animal, animal feed, or animal waste
After handling pet food or pet treats
After touching garbage
Click HERE for more hand-cleaning tips from the CDC
FEEDING SITES OPEN DURING SCHOOL CLOSURE
Click HERE for list of schools and more detailed information
Here are some important facts to keep in mind from the Children's Hospital Colorado, University of Colorado School of medicine:
The risk of your child getting COVID-19 requires one of the following to have occurred.

Close contact with a person who is lab-test-confirmed COVID-19 AND contact occurred while they were ill. Close contact means being within 6 feet (2 meters) of a confirmed or suspected COVID-19 case for prolonged period of time (~10 minutes or more). Examples of close contact include kissing, hugging, sharing eating or drinking utensils, carpooling, close conversation or direct contact with infectious secretions of a confirmed case of COVID-19 (e.g., being coughed on).
Close contact with a person is under investigation for COVID-19 and contact occurred when they were ill.
Living in or travel from a city, country or other geographic area where there is documented person-to-person transmission (community spread) of confirmed COVID-19 carries a small risk. This risk increases in areas of major community spread as listed by the CDC at www.cdc.gov/coronavirus.

Activities that do NOT cause COVID-19 infections (low risk):

Being in the same school, church, workplace or building as one person with COVID-19 (as long as there is not close contact as described above).
Walking by a person who has COVID-19.
Close contact with a person who was exposed to COVID-19 more than 14 days ago and never developed any symptoms.
The virus is not spread by skin contact alone (hands), it must enter via direct contact with mucous membranes (mouth, nose, eyes) or via airborne droplet inhalation.

How to protect yourself from getting sick:

Avoid contact with people known to have COVID-19 infection (e.g., talking to, sitting next to, same room)
Try to avoid close contact with anyone who is coughing.
Cough and sneeze into your shirt sleeve or arm rather than into your hand or the air.
Wash hands often with soap and water, especially before you eat.
Use an alcohol-based hand sanitizer if water is not available.
Avoid touching the eyes, nose or mouth unless your hands are clean. Germs on the hands can get into your body this way.
Do not share eating (e.g., spoon, fork) or drinking utensils. Stay home from work or school if you are sick.
No longer shake hands with people. Greet others with a smile and a nod.
The CDC does not recommend wearing a face mask, unless you are sick.
Get adequate sleep and stay well hydrated.

Testing for Coronavirus

Pediatric Partners will begin testing for coronavirus early next week when test kits are made available at our Palm Beach Gardens office location by appointment only.
We will only test patients that meet the CDC recommendations for testing which requires illness or history that puts patients at risk.