---
---
---
---
COVID-19 Vaccine Update
5/15/21 3:30pm
With this week's authorization of Pfizer's COVID-19 vaccine to be use in children 12 years of age and older, Pediatric Partners is pleased to announce that we will be administering COVID-19 vaccines for our patients and their families.  We plan on holding our first vaccine clinics at our Boca Raton and Palm Beach Gardens locations on Saturday May 22nd and Sunday May 23rd from 8:00 am until 1:00 pm.
Pediatric Partners is thrilled that our pre-teen and teens are now eligible for the COVID-19 vaccine.  This is truly an amazing scientific break-through and public health accomplishment for our country and our community.  Vaccination of our kids will allow them to safely begin socializing, returning to school and will reduce the spread of the COVID infection in our community.
As Pediatricians we appreciate and understand that some of our patients and parents have questions or concerns about the COVID-19 vaccine. You can find additional information, including FAQs from the American Academy of Pediatrics (AAP) and the Center for Diseases Control and Prevention (CDC) by clicking HERE.
During our COVID-19 clinics, our pediatricians, nurse practitioners and clinical staff will be present at both locations to help administer the vaccines and answer any questions you may have.
As part of our commitment to our patients and our community we plan on holding more clinics in the near future. If you know anyone who is 12 years or older needing COVID-19 vaccination, we will be happy to accommodate them.
To book an appointment go to our patient portal or call us at 561-741-0000.
-------
---
---
---
---
COVID-19 Vaccine Update
5/4/21 7:30pm
Our goal at Pediatric Partners is to keep all our patients and their families healthy, and not only to treat illness when it occurs, but to help prevent children from severe life-threatening illness caused by vaccine preventable diseases.
Since the discovery of Small Pox vaccine in 1798, safe and effective vaccines have been thoroughly researched and developed over the centuries, and have almost completely eradicated many devastating and life threatening illnesses.
As with all vaccines and new medications, the COVID-19 vaccine was scrupulously tested and safely and effectively administered to tens of thousands of volunteers before releasing it to the public, and at this time millions of doses have now been safely administered.
This has dramatically reduced the death rate from COVID-19 as well as the spread of the virus in our country, but we have a long way to go.
COVID-19 vaccines continue to be monitored very closely.In fact, the Centers for Disease Control and Prevention (CDC) say that COVID-19 vaccines will have "the most intensive safety monitoring in U.S. history".
Serious side effects that would cause a long-term health problem are extremely unlikely following COVID-19 vaccination. Long-term side effects following any vaccination are extremely rare. Vaccine monitoring has historically shown that if side effects are going to happen, they generally happen within six weeks of receiving a vaccine dose. For this reason, the Food and Drug Administration required each of the authorized COVID-19 vaccines to be studied for at least two months (eight weeks) after the final dose.  Millions of people have received COVID-19 vaccines, and no long-term side effects have been detected. These facts are telling us that the CDC continues to closely monitor COVID-19 vaccines.
Compared to adults, younger children have been overall less severely affected by COVID, but many children have gone on to develop a severe late onset illness called MIS-C, and many have died. Currently as the older population has been vaccinated, the number of cases in children and young adults is now rising dramatically, and many of these patients are hospitalized and in the ICU.
Children do have a strong immune system which will actually help them respond to the vaccine more effectively and safely, and will protect them from severe illness.
In addition, the more people that are vaccinated, both adults and children, will help to create herd immunity and eventually eradicate this virus entirely.
Pediatric Partners continues to recommend timely vaccination with all the currently recommended vaccines for children, and we also strongly recommend you protect your children and yourselves by getting the COVID-19 vaccine.
At Pediatric Partners we appreciate and understand that some of our patients and parents have questions or concerns about the COVID-19 vaccine, CLICK HERE to view additional information and FAQs from the American Academy of Pediatrics (AAP) and the Center for Diseases Control and Prevention (CDC) that can help answer additional questions you may have.
-------
---
---
---
---
Children & The COVID-19 Vaccine
4/27/21 1:30apm
---
---
---
---
---
COVID-19 Safety Measures
We are in this together!
---
---
---
---
---
What You Can Expect From Us
Separated times for sick and well visits
Dedicated rooms for sick and well visits
All staff and patients required to use face masks
Extra cleaning every hour on common areas and highly touched surfaces
New protective sneeze guards at the check-in area
The "virtual waiting room": Stay safe, stay in you car when sick
Extra effort to optimize patient flow to avoid crowded waiting rooms
24/7 Telemedicine Appointments
---
---
---
---
---
---
What We Ask of You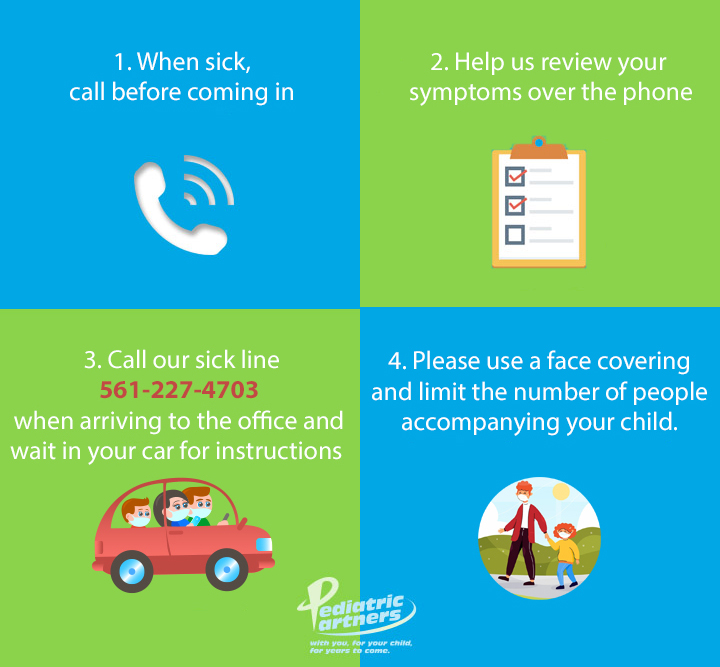 ---
---
---
---
Coronavirus Testing Update
7/2/20 10:30am
As we all know the spread of COVID-19 in Florida has rapidly increased during the past week. Together, we must increase our efforts to #stopthespread.  Here is an update on what we are doing at Pediatric Partners to help you and your family navigate this virus surge.
COVID-19 Testing Clinics: We're proud to announce that we have started walk-through diagnostic COVID-19 PCR testing at our Palm Beach Gardens' location by appointment only. Our clinics are performed during special hours and have a dedicated area within our office. Testing is available for all of our patients and their immediate family members. Call 561-401-4081 to schedule your appointment or visit our dedicated page for coronavirus testing and updates at www.pediatricpartners.com/coronavirus for more details.
Maintain Your Childs' Wellness Check-Up and Immunizations: It's important to ensure that your child's vaccines are up to date before the start of the new school year as well as protecting them from vaccine preventable diseases. Infant, school age children, and adolescent well visits are essential to review your child's physical and developmental growth. Assessing your child or teens' mental health is especially important in the midst of the stress of COVID-19.
Additional Safety Precautions: While doing our best to keep our non-sick and sick patients separated, our entire staff and all patients are required to wear facial coverings in the offices. Our staff uses proper PPE equipment when performing aerosolization procedures. We continue to move patients quickly from the waiting room into dedicated well or sick exam rooms, exam rooms are thoroughly sanitized between patients and our common areas are cleaned every hour.
In-office and Telemedicine Visits Available:  All 3 offices remain open for both well and sick visits.  We continue to offer telemedicine (virtual) visits 24/7 for any type of visit including same day visits.
The early evidence still suggests children and adolescents are at lower risk of infection and serious complications than adults from COVID-19.  At the same time, the risk is not zero. To keep your family healthy and safe, please continue following these simple guidelines:
Facial Covering/Mask: Over the last six months we've learned a lot about how the COVID-19 virus is transmitted between individuals.  The risk from surfaces and food is minimal while the risk is greatest from the spread of respiratory droplets. Therefore, the most important thing you can do to #stopthespread,  and to protect your children while reducing the risk of infecting others is wear a facial covering/mask. Your mask should fit snugly over your mouth and nose.  Keep your mask on your face the entire time you're in public. The only exceptions are for children under the age of 2 years and those with medical or developmental issues in which a covering may be difficult.  #coverupfl
Social Distancing: Science tells us that transmission is dependent on the closeness and duration of time exposed to someone with COVID-19. Since many with COVID may be asymptomatic we need to practice social distancing at all times. Remain at least 6 feet apart from others, avoid large gatherings, stay away from crowded spaces and minimize indoor events (e.g., movie theaters, concerts).   Our newly acquired knowledge informs us that the virus doesn't easily spread when outside in the sunshine. Outdoor activities while maintaining proper social distancing remain the safest place for children to play and exercise.  Encouraging children to be outside is important for their physical and emotional well-being.
Practice Hand Washing and Avoid Touching Your Face: Wash your hands with soap & water or use an alcohol-based hand sanitizer for 20 seconds frequently. Be careful not to touch your eyes, nose or mouth with your fingers.  Sneeze or cough into a tissue or into your elbow.
COVID-19 Testing: Appropriate and timely testing along with contact tracing is critical to help mitigate the spread of illness.
Thank you for trusting us with the care of your child during these challenging times. Wishing you a happy and safe Fourth of July! Tommy Schechtman, MD, MSPH, FAAP Pediatrician, President & CEO Pediatric Partners
_______
Coronavirus Preparedness Update
4/23/20 10:30am
The coronavirus pandemic also known as COVID-19 is reshaping our world as we speak.  We have introduced new phrases into our vocabulary such as social distancing, shelter in place, and no handshaking. These are challenging and stressful times for families as we learn to adopt and adapt to the new rules and learn how to become our child's teacher while at the same time balancing our own parental and personal needs and worries. The impact of this outbreak is very personal so I want to take a few minutes to discuss what may be on your mind and what we are doing here at our practice to help support you. At Pediatric Partners we are your child's Patient Centered Medical Home.  We believe it is essential that this home is a place of care and comfort in a safe environment. For this reason, we are available and here to provide support:
Our offices all remain open to provide in-person office care when needed.
Our pediatricians and nurse practitioners are available 24/7 using telemedicine or virtual visits to see your child remotely for an acute illness (sickness), injury, health supervision, routine care or medication management.
Our behavioral health team is available for teletherapy, parenting & school advice, and psycho-social support for all our patients and families.
The safety and health of our patients, families and staff is our top priority at all times.  With this in mind we have implemented the following additional steps to ensure that our offices remain a safe place for your child:
Modified schedules at each office with dedicated separate time blocks for well visits (newborn, physical examinations, immunization, med checks, consults, injuries) and sick visits.
Each office has separate exams for well and sick patients.
We have plenty of PPE (personal protective equipment) and our staff are wearing face masks at all times.
Patients with suspected COVID-19 exposure or patients with a fever (≥100.4) with cough and/or short of breath will be asked to remain in their cars until staff is safely ready to bring them into the office (providing them with masks) into dedicated exam rooms, ensuring minimized exposure to others.
While we must remain vigilant during this time in reducing transmission of coronavirus with proper social distancing; it is equally as important that children receive timely immunizations.  We must not risk the possibility of a second pandemic of measles nor any other vaccine preventable diseases that we can protect against.  Please, do not delay scheduling your child's routine well care and immunizations. Also, please keep in mind that our staff is available to help you to schedule an in-office or telemedicine visit for much needed chronic disease and medication management.  This may include timely management of asthma, acne, developmental, mental health and school issues.  If your child does not require vaccines at this time, but you have questions or concerns about your child health, development or emotional and psychological well-being, we can schedule an annual well child/adolescent telemedicine visit during which we can explore important health topics such as healthy lifestyles, school concerns, reducing risky behaviors and your child's emotional and psychological well-being. Please stay tuned-in to this webpage and social media for more helpful tips including:
Talking to children about COVID-19 by our psychologist Dr. Raquel Anderson
Fun video on belly breathing to reduce stress
Practicing safe social distancing with children by Dr. Sara Connolly
Tips on creating a daily routine schedule for your child.
As pediatric specialists, caring for others is at the core of what we do here at Pediatric Partners every day.  We will get through this together.  This is a time we should all practice kindness and stay optimistic. We will be here, with you, for your child for years to come…… Tommy Tommy Schechtman, MD, MSPH, FAAP Pediatrician, President & CEO Pediatric Partners
---